Skip to Content
Doctors' Experience, Technology Are Keys To A Successful Oral Surgery
Technology and scheduling flexibility are important when looking for an oral surgeon
Michelle Martin Memphis Oral & Maxillofacial Surgery Group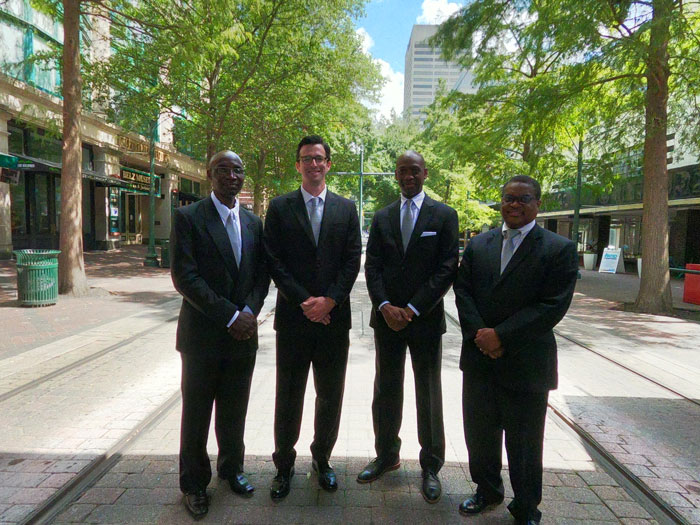 The team of four doctors and dedicated staff of twenty work together to meet the needs of patients at Memphis Oral & Maxillofacial Surgery Group. Left to right–Joseph Olayinka Majekodunmi, DDS; Matthew J. Breit, DDS; Richard D. Meekins, DDS; Ronald C. Staples, DDS, FACS." 
Like any surgical procedure, successful oral surgery relies on the skills and expertise of the doctor — and on the patient's trust and confidence in the surgery facility. That's why it's important to know what to look for before having oral surgery such as a wisdom tooth extraction or implant placement.
"A doctor's experience and knowledge base are important, as well as their use of technology and appointment flexibility," said Dr. Ronald Staples, an oral surgeon at Memphis Oral & Maxillofacial Surgery Group. "We like to refer to it as a healing environment when people come into the office. We take pride in how we treat people — it's how we interact with patients and families. We are here to serve and not be served."
Memphis Oral & Maxillofacial Surgery Group, which has two state of the art Memphis locations, is highly regarded by area dentists and physicians who refer their patients to the center for oral surgery.
"We have the pleasure of working with some of the most competent general dentists, pediatric dentists, orthodontists, and prosthodontists in the region which allows us to provide optimal, predictable, and contemporary care. Dentists and physicians trust our expertise and our ability to take care of patients," said Dr. Richard D. Meekins Jr., also an oral surgeon at Memphis Oral & Maxillofacial Surgery Group. "They often will contact us and say, 'Can you see my patient today?' We are proud of our responsiveness and flexible scheduling."
Staples and Meekins have a combined 50 years of oral surgery experience. Both men are Memphis natives with impressive credentials that include university and hospital appointments and multiple professional awards.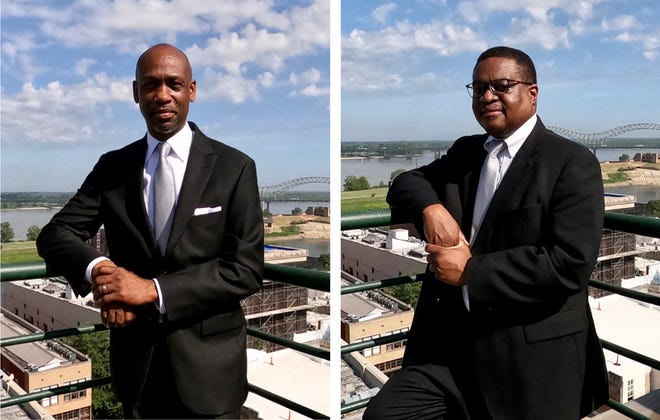 Drs. Richard Meekins and Ronald Staples have a combined 50 years of oral surgery experience.
Staples graduated in 1986 from the University of Tennessee Health Science Center, College of Dentistry, where he completed a postdoctoral oral and maxillofacial surgery fellowship and residency. He joined Memphis Oral & Maxillofacial Surgery Group in 1993.
Meekins earned a doctorate in dental surgery from Howard University in 1997, completed an oral surgery externship at Louisiana State University Medical Center Shreveport, and did his residency in oral and maxillofacial surgery at Martin Luther King Jr./Charles R. Drew Medical Center in Los Angeles.
Staples and Meekins are both graduates of Memphis high schools (Staples, Mitchell High School; Meekins, Whitehaven) and remain committed to the community they grew up in.
"I spent my training outside Memphis, but I spent most of those eight years wanting to get back home," Meekins said. "Over the years, I've been able to take care of my childhood friends, take care of the parents of my friends and now I'm taking care of my childhood friends' children. They are comfortable with me. They know where I started and where I am now."
Staples, who returned to Memphis in 1982 after obtaining an engineering degree, said he and Meekins often talk about the importance of creating employment opportunities for the people in the community.
"When people go to school and stay out of trouble, they need to have a job. We want to provide employment opportunities with a living wage and benefits for people in the community who seek to work in health care. Giving people a chance to become self-sufficient is one of the motivating factors that brought me back to Memphis."
The doctors credit their center's positive oral surgery outcomes to their dedicated staff who are committed to their patients' needs. "Our patients feel like they're being treated like family," Meekins said. "The experience with us is a pleasant one, and we take care of them just as if they were a relative of ours."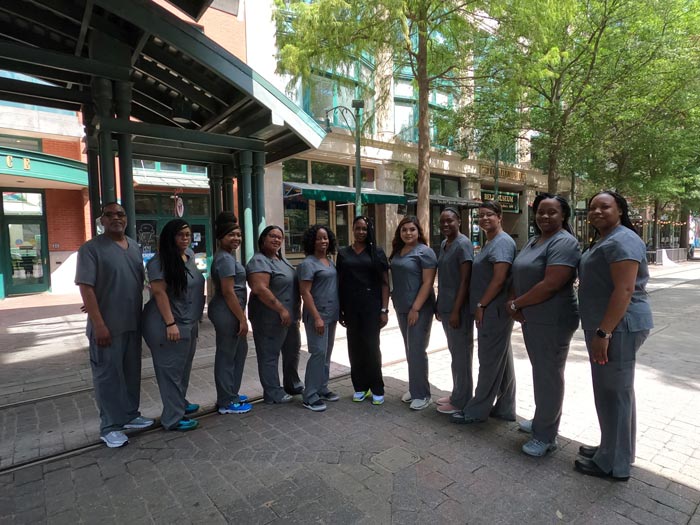 The dedicated clinical staff is committed to patients' needs.
The office uses some of the most advanced technology for oral surgery procedures. All dental implant patients receive CT scans. When patients come in for an implant consultation, they undergo the scan, which allows the doctors to measure the quality of the bone.
"This adds to an increase in healing, which makes these implants much more successful," Meekins said. "The office may also use a patient's own blood to increase the rate of recovery. The platelets derived from their blood stimulate the growth of new cells, help prevent infections and decrease pain.
In addition to this platelet-rich-plasma (PRP) technique, we utilize other new therapies using stem cells, and bone grafting to provide progressive and contemporary dental treatments like teeth in a day."
"Specialized anesthetic gas called Sevoflurane is also used during many of our procedures. It's really unique in its field," Staples said. "It creates a twilight sleep fast and wears off very quickly. It makes for a better surgical experience."
With two locations, Memphis Oral & Maxillofacial Surgery Group offers flexible appointments and a commitment to see emergency patients the same day or next. The office also treats children, pregnant women, and medically compromised patients.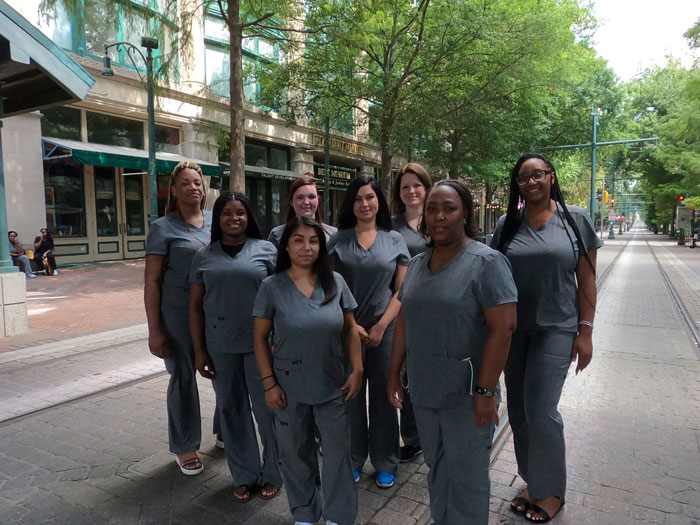 The administrative staff makes sure you can get an appointment when you need one.
"We have two other doctors in the practice, Dr. Joseph Majekodunmi, and Dr. Matthew Breit. With their addition and an entire staff of over twenty people, we are much better able to meet the needs of our patients and referral sources." The doctors also have privileges at Methodist, Baptist, and LeBonheur Children's Hospitals to treat more serious or complicated cases.
"With the experience we have and the procedures we perform, we have become a premier oral surgery group in the city," Staples said. "We believe that we have created a place that is safe, provides personalized care, and has a comment to quality. We are honored to take care of you and your family."
To learn more about how the doctors and staff at Memphis Oral & Maxillofacial Surgery Group use their decades of experience to successfully treat patients needing wisdom tooth extraction, dental implants, and other oral surgeries, visit momsg.org.