Skip to Content
When did Dr. Ronald Staples first experience unequal access to business loans? Right from the beginning.
By Corey Davis – Reporter, Memphis Business Journal
Ronald Staples isn't the type of person to believe his skin color was a major factor in why he had to go to four Memphis-area banks to secure a line of credit to open his dental surgery practice.
The year was 1993, and the $130,000 credit line was eventually secured via what was then the National Bank of Commerce, which later became SunTrust and is now Trust.
Dr. Staples chalked it up to being fresh out of dental school with little to no money.
"Even without being Black, if you don't have a track record with thousands of dollars in the bank and years of experience, it is a risk with any new doctor that is opening their practice," said Staples, who is the founder and oral surgeon at Memphis Oral & Maxillofacial Surgery Group.
But, Staples wasn't naïve. He noticed his struggle to obtain a business loan seemed to be a different story from his white dental contemporaries.
"The only thing I can say is my peers I went to dental school with got business and mortgage loans, all at the same time, and they weren't African American," Staples said. "We all started at the same level and all got the same education and the need was the same in the community."
Staples even remembered one banker who rejected his application despite the fact that he had just told Staples how great his business plan was.
"In the beginning, when you start a business, it's based on potential," Staples said. "It's harder for people to trust that potential when you are African American."
National Bank of Commerce was the fourth bank Staples walked into in order to receive the $130,000 line of credit that helped him establish Memphis Oral & Maxillofacial Surgery Group.
During his meeting, Staples — who had his infant daughter with him — accidentally left her pacifier on top of his car. Today, in part, he credits that forgetful moment with helping him secure the loan.
"She kept crying as I was talking to the banker," Staples said. "I tried to calm her down. The man felt sorry for me and gave me a business loan. … It was certainly not an easy road to get a loan, but there was never a moment where I thought this wasn't going to work. I got frustrated, but never thought about giving up."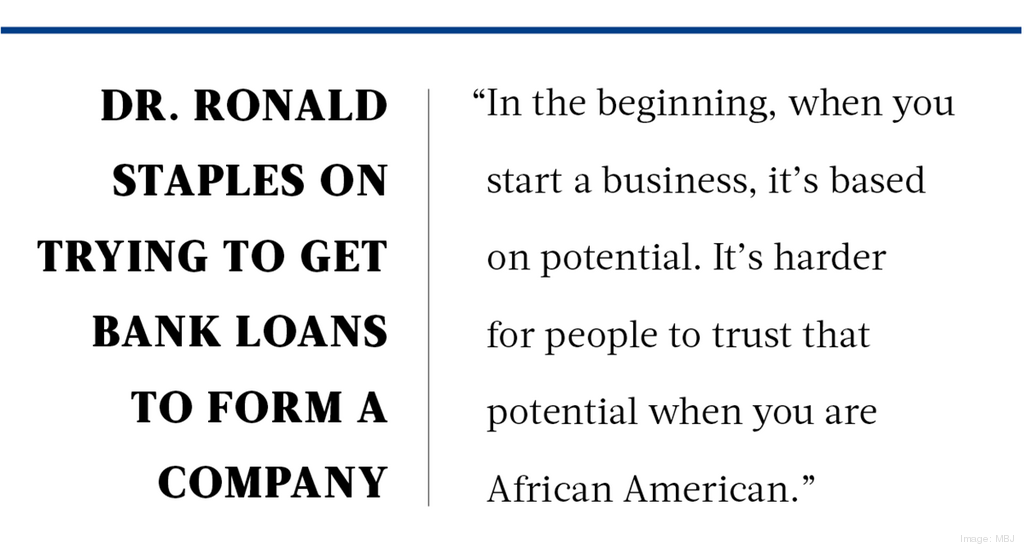 Impacted
Staples used about $75,000 of the $130,000 to get started. Once he got his dental surgery practice off the ground, he used profits to purchase additional equipment and other needed items.
Staples' partner, Dr. Richard Meekins, co-owner and oral surgeon for the practice, bought into the business in 2001.
Meekins' process to obtain a business loan was a lot smoother at that time, when he applied through Regions Bank.
"My story is a little different because Dr. Staples had already established such a strong practice when I came to buy in," Meekins said. "I ended up getting my loan without too many issues due to the contacts that Dr. Staples had already made prior to me coming back home. The combination of having a great business and having finances in any situation — color or not — makes it easier to borrow money from the bank, and harder when you don't have these things."
With the impact of COVID-19, Memphis Oral & Maxillofacial Surgery Group received a Paycheck Protection Program (PPP) loan valued at $225,000 during the second round of money that was allotted to small businesses.
The doctors said it was clear the practice wasn't going to receive PPP money during the first round when they went to submit an application with a large local bank.
"It was pretty obvious that we were far down the list of priority as they were being issued out," Meekins said.
During the second round of PPP, Memphis Oral & Maxillofacial Surgery Group applied through and was approved via Planters Bank in Southaven.
"Fortunately, we were able to pay all of our employees and didn't miss payroll the entire time," Meekins said.
Extraction
Recently, the practice opened up at a larger and more recognizable location in East Memphis. The practice debuted in September its new location at 6584 Poplar Ave.
It also has a location at Methodist South Hospital at 1251 Wesley Drive.
Staples said Memphis Oral & Maxillofacial Surgery Group earns $3 million to $4 million a year in revenue. The practice is also No. 23 on
MBJ's Memphis-area Black-Owned Businesses list, ranked by a number of employees.
Meekins said they appreciate the recognition. However, the owner is adamant they not be pigeonhole based on race.
"Over the course of our history, we've been listed as one of the top Black businesses in the city, and have received awards on that," Meekins said. "We've always been proud of that. But, we are at a point now where we want to be portrayed as the top oral surgery practice in the city, without the moniker of our skin color."